HISTORICAL IMPORTANCE AND BRIEF DESCRIPTION OF THE PLACES IN ANDHRA PRADESH
---
Home
Package details
Contact us
Karnataka
Kerala
Tamil Nadu
Andhra Pradesh
---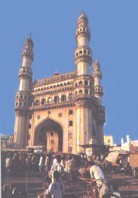 Hyderabad :

It was founded by the Qutub Shahi dynasty, a line of rulers known for their beautiful "monuments, mosques and mistresses". The Nizams held sway over Hyderabad untill 1948, when the state was merged with the Indian Union.
Charminar : It is the best known landmark of Hyderabad. It was built in the year 1591 by Sultan Mohammed Quli Qutub Shahi to commemorate the end of the dreaded epidemic plague.

Golconda Fort : It was built in the 13th century. Golconda was rebuilt by the Qutub Shahis, who, in the year 1525, made it their capital.

Mecca Masjid : Situated near the Charminar, Mecca Masjid is one of the largest mosques in the world. The construction of this mosque was started in the year 1614 by the 6th Qutub Shahi King, Abdulla Qutub Shahi, but was completed only in 1687 by the Moghul emperor Aurangazeb when he annexed the Golconda kingdom.
---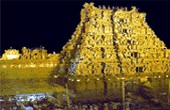 Tirupathi :

The Sri Venkateshwara temple atop the Thirumala Hills is one of the biggest piligrim center in the country. The temple is situated at an altitude of 2,800 feet among the seven greenery-covered hills on the eastern ghats. The main temple is a masterpiece of Dravidian architecture with its main tower facing the east.

---
Srisailam : It is known for its temple dedicated to Lord Siva. The main temple with four lofty towers was built by the Vijayanagar King Harihara Raya(1404-1405 A.D).
---
Top
Home
Package details
Contact us
Karnataka
Kerala
Tamil Nadu
Andhra Pradesh
---